13/06/2023
Reducing Costs by Moulding Own Products – Advanced Air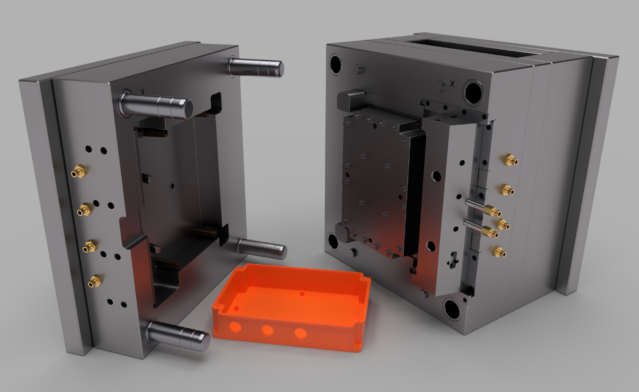 For many years we've had the pleasure of working with Advanced Air, producing tooling and mouldings for a variety of their air distribution products.
Advanced Air manufactures a wide range of energy efficient air distribution and fire safety products. Their products include air diffusers, fire and smoke dampers, fan coil units and volume control dampers.
During a site visit we were discussing their products, one of which uses an 'off the shelf' electrical enclosure. This is not only an expensive way to manufacture products but requires modification to make it suitable for their application. We are always looking for ways to help our clients where possible and asked if they'd ever thought about making their own enclosures.
This led to a discussion about tooling a bespoke enclosure that could be designed exactly for their application. Not only would this be tailored to their specific product but significantly reduce the cost of parts.
We provided a clear idea of the initial expenditure for tooling and the part costs to calculate the return on investment. To put this into numbers, the cost of tooling would be covered within the first 9 months of production and not to mention the huge savings from no longer buying off the shelf parts.
Advanced Air submitted the concept CAD model and with our feedback based around design for manufacture, we made sure it was suitable for injection moulding and fulfilled the product requirements.
Once the design was finalised it was time to create some samples. The tooling and sample parts were delivered on time and in line with the exact specification. Following sign off from Advanced Air, we carried out a successful first production run and have been running the tooling ever since.
"Bowles and Walker are always helpful and open about all aspects of the moulding process and happy to answer any questions we may have. We would certainly recommend Bowles and Walker to any other company that requires plastic injection moulded parts"
Jon McIvor, Marketing & Design Manager, Advanced Air
Here at Bowles & Walker we like to support our customers in any way that we can. If you'd like to reduce your production costs and support UK manufacturers, we'd be happy to help! For more information about our services please call us on 01953 885294 or email info@bowles-walker.com.